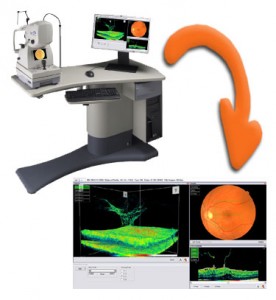 The New Topcon OCT enables the doctors at Lange Eye Care to have the most advanced diagnostic technology to aid them in making the most accurate and early diagnosis of diseases of the eye.
This technology will help to detect vision threatening diseases much earlier and thus initiate treatment earlier for a better visual outcome. Lange Eye Care is constantly enhancing their quality of care for their patients by incorporating the latest into their practices. The technical staff and doctors are thoroughly trained in the utilization of this technology.
Fourier Domain OCT – Optical Coherence Tomography
At Lange Eye Care and Associates we strive to bring you the most current,
innovative diagnostic tools in the industry. Lange Eye Care is the only optical group to have this technology in the five county radius.
This new technology commonly known as Fourier Domain OCT or Spectral Domain OCT makes it possible to visualize large areas of the retina, significantly enhancing OCT's diagnostic utility.
Topcon® 3D OCT
The Topcon 3D OCT combines the latest Fourier Domain technology, a non-mydriatic (no dilation) retinal camera and Topcon's exclusive TrueMap™ OCT software into a single system.
TrueMap™ and Pin Point Registration™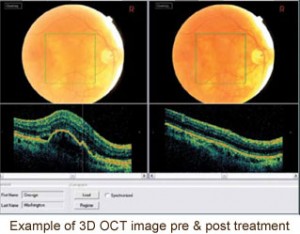 With the use of the intuitive TrueMap™ software and the Pin Point Registration™ of the OCT image with fundus images your doctor can quickly identify the boundaries of the scanned area, 3D OCT maps 100% of the area within the green box. (see example on the left)
TrueMap™ software enables dynamic viewing of images and identifies the data point in three viewing modes simultaneously — 3D, Fundus image and 2D
Intuitive TrueMap™ software enables dynamic review of images in a digital environment eliminating the need for static printed reports.
as of 2018 the Lange Eye Institute has upgraded to the 2018 Topcon Maestro oct the latest in oct technology.